Newsletter sent 2015-06-02.
Easier Google Analytics Reporting
Analytics Edge provides a lot of functionality in the Free Google Analytics connector, including a few great integration features that can be easily overlooked or misunderstood. Let me explain a few of them.
Account/View Cell References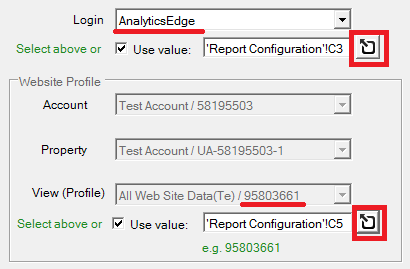 To make it easier to build a template for multi-website or multi-client reports, you can enter the name of the Login and the web View (Profile) id number into an Excel worksheet cell, then use a cell reference in the report queries.
To make the cell references, simply click the button beside the entry box, and then click on the cell in your workbook.
If all of your queries use the same cell reference, you just change the value in the worksheet cells for each client's report. All the queries will use that value when you refresh.
Date Cell References
The start and end dates for each query can use cell references in the same manner.
Just click the button and click the cell in your worksheet that contains a valid date.
Note that the cells must contain a real date, not just a string of text that looks like one. Real dates can be formatted in Excel to display in any number of formats. If the cell contains a text representation of a date, it must appear in the format of "2015-06-02".
OUT OF MEMORY Errors
If you just switched from the old Excellent Analytics add-in, you may not realize that the Analytics Edge connectors for Google Analytics are not limited to 10,000 rows of data and they will automatically download everything available. If you are running a 32-bit version of Excel, then you may experience an out-of-memory error with these big downloads.
To reduce your memory requirement, try to make the query smaller, or try to make the workbook smaller. You can limit the query by reducing the date range or by entering a Max Results value on the Sort/Count tab. You can reduce the size of your workbook by removing extra worksheets, excess data, and/or large blocks of conditional formatting.
If you need to be able to process large volumes of data, then you should upgrade to the 64-bit version of Excel which can use all of the memory available in your computer. Your Excel license usually covers both versions and you may find the 64-bit version is on your installation DVD!
A Note About Sharing Workbooks
If you regularly share workbooks in your workgroup, you may encounter problems with refreshes failing due to login failures. Analytics Edge uses security tokens for access, not accounts and passwords. When you log in using the Accounts wizard, you enter a Reference name for your security token, and that Reference name is used to get the security token.
For another person to refresh your workbook queries, they have to have a security token stored with the exact same Reference name. You can enter anything as a Reference name, so you could both agree to use "My Account", and you could share your workbooks with ease.
Actively Supported 
Unlike most products you have experience with, I actively supports all of my products, even the free ones. If you have problems or ideas for improvement, I want to hear about them: Analytics Edge Support Forum
Mike Sullivan
Founder, Analytics Edge