Newsletter sent 2015-07-14.
Creating Many Google Analytics Queries With Ease
Need to quickly create a lot of Google Analytics queries? Not afraid of getting a little technical, but don't want to become a programmer? The updated Google Analytics Pro Connector has what you need! You can build and edit queries with the same simple wizards, but you can also copy and modify every parameter right in Excel.
And There's More…
Even better, you can now easily add multiple Google Analytics Views to the query! You also get all of the Pro Connector's advanced features, like the ability to pivot by a selected dimension, unlimited downloads, and floating date ranges.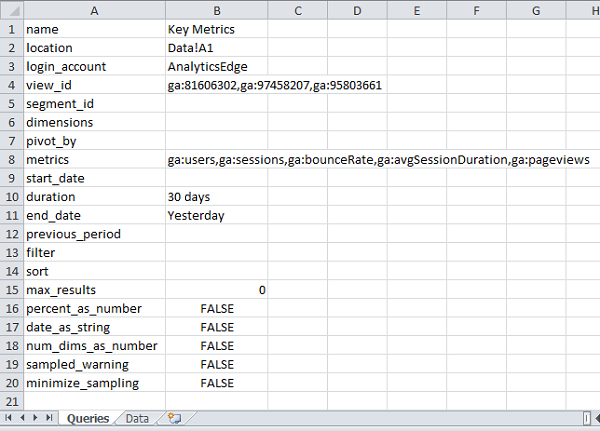 No Technical Training Required
The best part is that you can still edit and create queries using the wizard interface, so you don't have to learn API terminology – let the wizard do the translation for you! Build your first query, then copy and tweak columns in Excel to make multiple queries fast! Use formulas, cell references, search and replace, or just type it in. You are in control!
The upgrade is available now, right from the Analytics Edge ribbon bar. Still only $50 per year.
Mike Sullivan
Founder, Analytics Edge