Newsletter sent 2015-11-17.
Free connector update; Even easier to use
With Analytics Edge, my purpose is to help people get their job done faster, in particular with those tedious daily, weekly, and monthly Excel reports. The latest release of the Free Google Analytics connector gives you a good idea how the rest of the product portfolio will evolve. I have cleaned up the user interface and made it easier to find the view or field you want. Got feedback? I would love to hear it!
The changes start with the View tab, which now allows you to see all of your web properties in a single listing. If you only have a few, you can scroll down and pick the one you want. If you have hundreds, you can type a few letters in the new filter box to quickly find the one you want.
Dimensions or Metrics?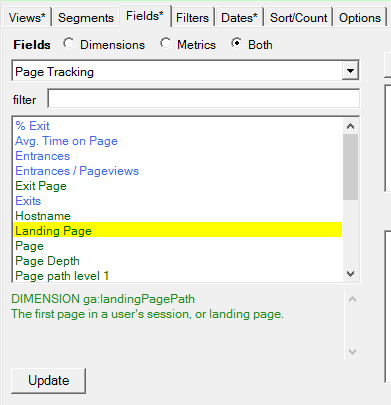 The Field selection tab has also changed, providing a merged list of dimensions and metrics by default. It also offers the usual group selection drop-down, and a filter-as-you-type box, to help you narrow down the specific entry of interest. Having both dimensions and metrics available makes it faster to grab related items, like Page and Pageviews.
More Consistency
You will notice a lot more consistency in the interface, which should make things easier to work with as you go from tab to tab. It should also make the wizards easier to navigate, especially on Windows 10 and Excel 2016 systems.
Crash Reporting
There's nothing worse than having a software application crash when you're trying to get your report done. Analytics Edge now automatically collects all crash reports, and I am working to eliminate them completely.  You don't have to do anything — it's my problem, and it shouldn't be yours. Every update includes bug fixes and patches, so you should grab them when they appear.
If you do have problems and need some direction, remember the Simply Free support forum is always available, and I will give you real answers for your real problems.
Mike Sullivan
Founder, Analytics Edge