Newsletter sent 2016-04-05.
Facebook Ads Connector: Unleashed!
The latest Analytics Edge connector for Facebook Ads has been fully released to production and is no longer in limited beta. Bringing all the expected ease of use to your Facebook campaign reports that you've come to expect from Analytics Edge, the new connector simplifies client reporting. No more manual downloads! Install it from the ribbon bar.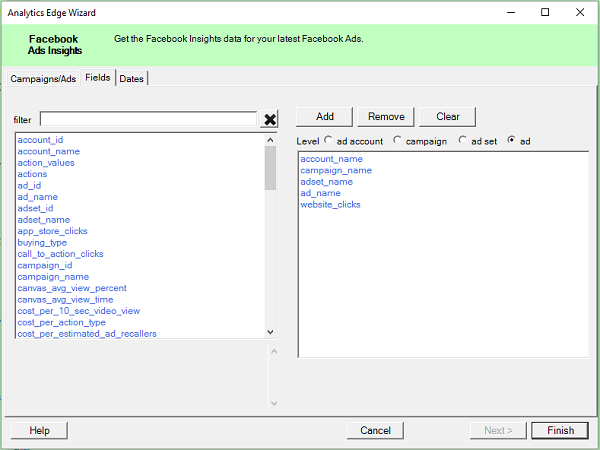 Reliable Weekly and Monthly Reporting
When you combine the need for weekly reports and monthly reports on a Monday, there is a noticeable spike in demand. This is "reporting day", and you need your reporting tools to work. Yesterday, April 4th, saw a new daily high in the number of Google Analytics queries being made with Analytics Edge: over 135,000!
The best thing about using Analytics Edge: you never have to worry about overloading an intermediate server — all your queries go direct from your computer to the API servers themselves! This is why there are no account or query limits. It also keeps the product affordable — there is no overhead for heavy use; nothing that requires scaling up to meet demand. Just you and Microsoft Excel…and the Analytics Edge add-in.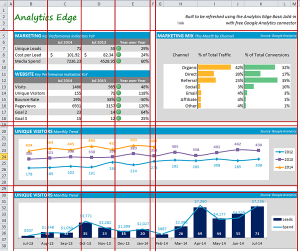 Don't Forget the Grid!
When you start working on a new report or dashboard in Excel, it is tempting to jump right in and start dropping numbers into a worksheet. STOP! Spend a few minutes to plan that report out a little and you will save yourself huge buckets of time later on!
If you haven't seen it yet, I have a great article on Building a Marketing Dashboard that provides a simple process and some useful tips that can reduce the total time it takes to complete your report. You can even download a copy of the workbook.
Oops…
Many of you loved the SEO Summary Report highlighted in the last newsletter, but I neglected to include a link to the download. Here it is: SEO-SummaryReport-1-0.xlsx.
"Excellent bit of software. Saves many hours of work – miles ahead of anything else I've used"
Add your own comment and rating.
Mike Sullivan
Founder, Analytics Edge