Newsletter sent 2016-05-03.
Excel dashboard widgets made easier
Creating dashboards in Excel can be challenging if you start with only a rough idea and just start pulling in data. Here's some helpful guidance: a little bit of planning will save you a lot of effort later on. I posted a new article "Creating an Excel Dashboard Widget" to show you how to quickly make those little key metric widgets you find on most dashboards.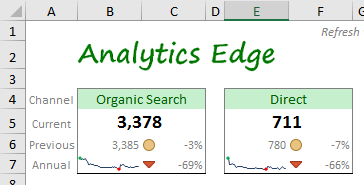 In the article, I reinforce the need for planning because of Excel's rigid grid structure, identify the usual elements of a good widget, and how to quickly grab all the data you need to populate one. I even show you the simple formulas used to calculate percentage change, and outline some Excel formatting tips to make the important data stand out.
Free Workbook: Google Analytics Tabular Summary Report
If you are using the Analytics Edge Core Add-in, you'll enjoy the latest free report I just posted. It delivers a full 12-month view into all of your website's key metrics, from sessions and users to conversions and revenue.
As always, if you have suggestions or feedback on how the product can be made better, or what articles or free reports you would like to see, I would love to hear from you.
Mike Sullivan
Founder, Analytics Edge
"Awesome! This tool is a unique utility when mounting large data structures coming from Google Analytics. Recommended to all my colleagues. — E.S."
Add your own comment and rating.