Updated 2017-07-11 – Trojan warnings from Kaspersky anti-virus software
Coexisting with Anti-Virus Applications
Viruses, Trojan programs, phishing attacks, ransom-ware, and other internet threats are serious problems, and many organizations are installing layered security solutions, usually referred to as "anti-virus" programs. They do a lot more than simply check for viruses.
As a software developer producing an installed application (the Analytics Edge add-ins) that use the internet for core functionality (installing connectors, account authorization, downloading data, validating licenses, tracking usage), I run head-on into many of the protections these applications provide. The result is usually that something doesn't work the way it was designed, and then unexpected errors appear.
This week's [originally written 2016-08] activities and product updates address a number of issues caused by these defenses.
Digitally Signed Installer – It's not good enough to just say "trust me". The anti-virus vendors look for digital signatures as one sign of application integrity. Analytics Edge installers have always been digitally signed, so when you try to run them, a dialog will open up verifying that the application you are trying to run was created by me and has not been altered in any way. If that dialog does not show "Verified publisher: Analytics Edge", do not run it!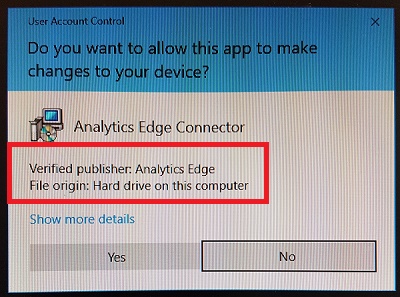 Update Your Anti-Virus Software – usually anti-virus applications automatically update themselves, but if you run into a problem with Analytics Edge, make sure you have the latest update. I do try to work with the various anti-virus organizations to make sure Analytics Edge doesn't get flagged as "untrusted", but if your specific application pops up a message, please let me know in the comments below so I can work with the vendor to make things right. I release a lot of features updates and patches as soon as problems appear, and sometimes the anti-virus vendors need a little time to trust something new.

Manual Installation – I used to be a Chief Information Officer at a company that made security software for governments and large organizations; I know that corporate policies are a reality, and that working with I.T. to change a policy is not always possible, especially if you just want to install a little add-in for Excel.  For this reason, I publish manual installation procedures so you can install the add-ins, and I have just added a new manual installer and procedures for the connectors. If you are struggling to get Analytics Edge to work within your corporate security policies, drop me an email and I'll try to walk you through to a safe solution that won't get I.T. upset at you.
Malware applications are a reality, and so are anti-malware (anti-virus) solutions. I will continue to work to make Analytics Edge coexist with the applications you need to protect yourself.
Mike Sullivan
Owner, Analytics Edge