Automate your Constant Contact reporting
The Analytics Edge core add-in provides a simple automation solution for Excel, and now the  Analytics Edge Connector for Constant Contact makes it easy to interact directly with your Constant Contact account. You get access to over 25 Constant Contact reporting functions, including the bulk export for downloads of large contact lists.
$50/year, 30 days free, available from either Analytics Edge Add-in.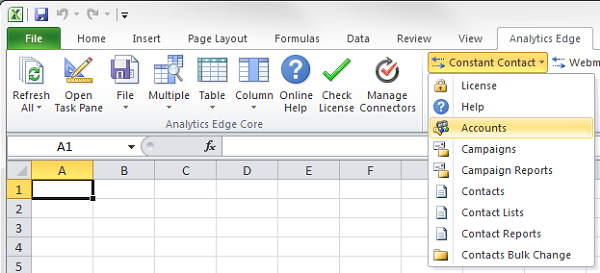 No programming required!
The Connector for Constant Contact is easy to install, easy to configure, and easy to use. The simple wizard interface provides access to Constant Contact from inside Microsoft Excel. Combine it with other Analytics Edge functions to fully automate your campaign tracking report, or the upload of new list members. No formulas, no programming.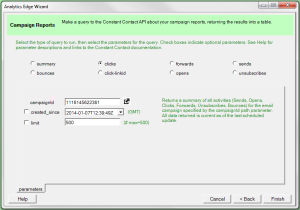 Simple access to the data you need
Using the same function wizard approach as our Core Add-in, the Connector offers over 25 Constant Contact functions in a simple point-and-click interface. Check a box to include optional parameters. Enter a value directly, or have it fed from a value in a worksheet. Pick from a list, select true or false, or choose a date; we make it easy.
Automate your business workflow
As part of the Analytics Edge Add-in, you can include your Constant Contact downloads in a workflow simply by doing it once. A macro is recorded automatically, saved with your worksheet, and can be replayed at any time – no programming required! If you aren't getting what you expected, you can easily step through it to see where things went wrong. When changes are required, edit any step using the same simple wizard interface. Stay focused on your task, and don't waste time trying to figure out formulas.

Trusted
Email Marketing
The Analytics Edge Connector for Constant Contact is licensed independently for use with the Analytics Edge Core Add-in, and is available free for 30 days.