Analytics Edge | Simply Free Option!
The Analytics Edge Core Add-in has a Free license option and includes a Free Google Analytics connector. Together, they provide a Simply Free way to automate Google Analytics reports using Microsoft Excel.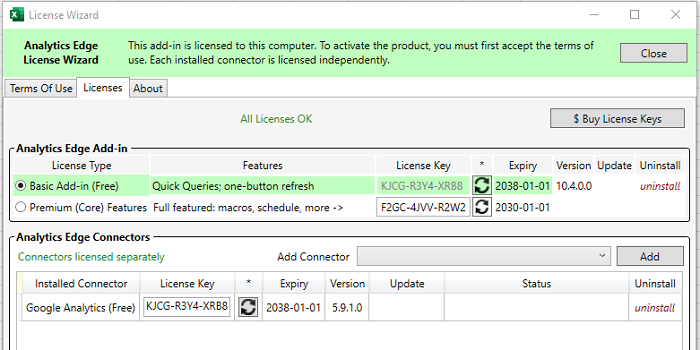 The Free Google Analytics connector provides unlimited queries for unlimited accounts subject only to API limits. They can be placed in any cell in any worksheet, and all of them will refresh with a single click ("Refresh All"!). It even has an option to minimize sampling! The Free Google Analytics connector pulls data only from the Universal Analytics (Google Analytics 3) API — it does not have access to Google Analytics 4 or the MultiChannel Funnels data.
---
Inexpensive Upgrades
Get the full power of the Analytics Edge Core Add-in with a Premium license. Quick functions like pivot, sort, and filter, plus code-free macros (no formulas or script writing!) to fully automate data cleansing, comparisons and calculations.
Upgrade to the Google Analytics Pro Connector for complete support of Google Analytics 4 and GA 360 accounts, including the extra custom dimensions and metrics, multi-channel funnel reporting, resource quotas and more.
Add other data sources like Google Ads, Google Search, Facebook Ads and more. Pay only for the connectors you need to fully automate your reporting and free up your week!
Amazing Automation, Simple To Use!