Download the
Automates downloads
Simply Free
Fully functional, unlimited use
No programming; wizard-driven
Work with multiple data sources
Active forum support
Free Google Analytics connector
Free Social Shares connector
Use Excel to manipulate data
 –
Video Comparison
Basic vs Core Add-in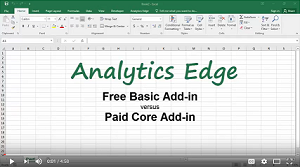 Download the NEW
Automate download with simple analysis
Try for 30 days free
No purchase necessary

No programming; wizard-driven
Work with multiple data sources
Confidential email support
Free Google Analytics connector
Free Social Shares connector
Simple Functions Wizard can:
Pivot, arrange, sort, and filter data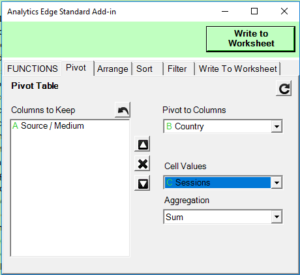 Download the
Automate downloads and analysis
Try for 30 days free
No purchase necessary

No programming; wizard-driven
Work with multiple data sources
Confidential email support
Free Google Analytics connector
Free Social Shares connector
Custom Macro Recorder can:
Load, transform, and modify data
Combine, compare, and lookup
Arrange, filter and pivot
Calculate, join, and replace
Schedule unattended refresh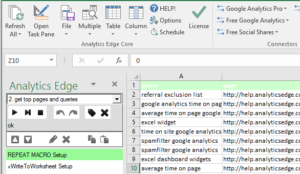 For Microsoft Excel 2007, 2010, 2013 and 2016; Windows 7 and higher only (sorry, no Mac yet)
Requires Microsoft .NET Framework 4.6.2  Renewing? Buy new to extend your existing licenses!
---
* Optional Connectors
Installed from the Add-ins
Try for 30 days free
No purchase necessary
.
Bing Webmaster Tools
Google AdWords
Google Analytics Pro
GA Management
Google Search
Constant Contact 
.
 MailChimp
Facebook Insights
Facebook Ads
Moz
Salesforce
Shopify
---
WOW! This is cheap!   Hi, I'm Mike Sullivan, and this is my business. I have worked for small to mid-size companies for 35 years, and I was always disappointed that free products were never quite enough to get the job done, and the paid counterparts were simply too expensive. With Analytics Edge, I am building the products I always wanted: feature-rich, fast and simple to use, unlimited use, and really, really inexpensive (starting with free). 
---
** Try it before you buy! NO PURCHASE NECESSARY- just download and install the product! All products are fully functional and free to use for 30 days. No refunds once purchased license codes are activated. Refunds subject to $5 processing fee. All prices in USD. Products are licensed to the computer they are installed on. Computer upgrades and transfers are supported upon request. Analytics Edge does not offer any affiliate incentives, volume discounts, package deals or alternative payment methods. Everyone gets the lowest price available.