Searching for an affordable SEO reporting tool? Analytics Edge has it!
Working from a simple add-in inside Microsoft Excel, get your organic landing page data from all of your Google Analytics accounts in seconds! Add a Google Search connector and Bing Webmaster Tools connector, and you can track your search keywords and position rankings for all of your accounts and websites. Analytics Edge products don't have account limits or download restrictions. Get your data direct from the API servers, fast and secure.
No account limits. No query limits. No report limits.
Easily build custom reports for each of your clients, or create a template for them all. Analytics Edge makes it easy to use cell references for accounts, websites and date ranges. One click refreshes the whole workbook! Your reports are done before you can finish your morning coffee!
Dig Deeper
Need a deeper analysis of the data? Upgrade to the Analytics Edge Core Add-in and you get the ultimate in reporting and analysis automation tools. Build a wizard-based macro to manipulate your data in minutes, and refresh the data in seconds. You can even schedule the refresh for overnight, and send the report as a PDF attachment in an email.
Get a quick start using some free reporting workbooks, like the SEO Summary Report,
or explore some possibilities like the Google Search Position Distribution report,
or the exploratory CTR vs Position Analysis. Analytics Edge makes it all possible!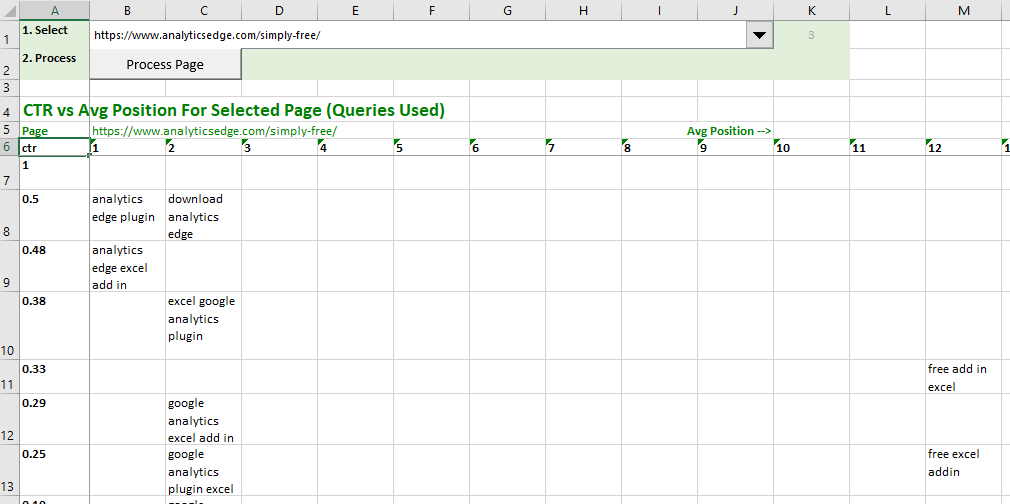 Affordable SEO reporting in Excel from Analytics Edge. Get started today – all products are free to use for 30 days!